Product Description
Moisture proof Coating.

Pavement marking beads can be effective without any coatings. However, in some humid locations, it is difficult to apply the beads because they clump in the bead hopper or tank of the striping machines. To address this problem, a moistureproof coating can be applied to the beads, allowing them to remain free-flowing under all striping conditions. This coating alleviates problems during application, but it was not designed to improve wet-weather visibility. The moisture proof coating allows the beads to be stored, handled, and applied without clumping. Chiye Glass Bead Factory has its own system to make the beads flow without clumping. Some may use silicone oils or add inorganic particles such as China clay (Virginia DOT 2009).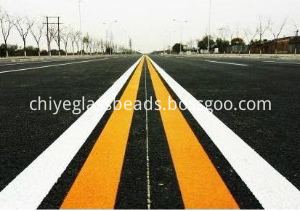 Reflective Glass Beads
During production of paints, qualified glass beads will be mixed into them as certain proportion required by standards.Certain proportion glass beads will be dropped on during application of paint on road, which has been mixed with glass beads, before they are dry. Under the effect of gravity of glass beads itself, the glass beads will inlaid into paint by part of their surface. When the car light attaches such kind of road marking lines, the light will be reflected back to the eyes of driver to increase driving safety at night.
The glass bead can be separated as intermix beads and drop on beads according to the usage of them, and also can be devided as moisture-proof beads, adhesive coating beads and dual-coated beads.