Product Description
Coatings
Bead coatings are used to make beads easier to dispense,increase adhesion to the binder material, and improve embedment and, therefore, retroreflectivity. The three most common forms of bead coatings are moistureproof coating,adhesion coating, and flotation coating.
Moisture Proof Coating.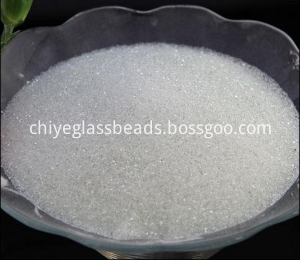 Pavement marking beads can be effective without any coatings. However, in some humid locations, it is difficult to apply the beads because they clump in the bead hopper or tank of the striping machines. To address this problem, a moistureproof coating can be applied to the beads, allowing them to remain free-flowing under all striping conditions. This coating alleviates problems during application, but it was not designed to improve wet-weather visibility. The moisture proof coating allows the beads to be stored, handled, and applied without clumping. Chiye Glass Beads has its own system to make the beads flow without clumping. Some may use silicone oils or add inorganic particles such as China clay (Virginia DOT 2009).

Moisture-Proof Glass Beads
Coat regular glass bead with a special type of coating during production to increase the hydrophobicity of glass bead.

The Moisture will not adhere on the surface of this type of glass bead easily under conditions of rainy and/or foggy days,so that the negative effect to reflectivity by bad weather will be decreased.