Product Description
Reflective Glass Beads for Road Marking Material
Retroreflectivity is a term used to describe how light is reflected off of a surface and returns to its original source ([retro"-reflector). Retro-reflection is a type of reflection that redirects incident light from the surface back to the source, for example to the vehicle headlights. Retroreflection is achieved through either glass beads or microprisms imbedded in the sheeting. Traffic sign sheeting materials now use technology with small glass beads or prismatic reflectors that allow light from vehicle headlights to be reflected by to the vehicle and the driver`s eyes, thus making the sign appear more bright and visible to the driver.
Horizontal marking material is made visible by the addition of Drop-on glass beads for road markings. These spheres (retro)reflect the lights from a vehicle in various weather conditions: dry conditions, wet conditions and rainy conditions.
The glass bead can be separated as intermix beads and drop on beads according to the usage of them, and also can be devided as moisture-proof beads, adhesive coating beads and dual-coated beads.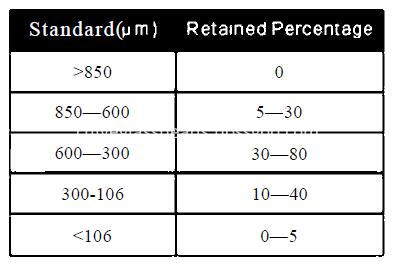 During the application of paint on road work, thermoplastic paint should be heated to a certain level and used on the road surface as marking line, drop on glass bead should be dropped on the surface of line while it is still wet to increase the reflectivity of road marking line.
According to the specification of Communication Industry Standard of the People's Republic of China No. GB/T24722-2009-, the granulometry of drop on glass bead is shown as table below, other parameters are the same with intermix glass bead.
We can produce glass beads based on standards of different countries and areas, Such as BS6088, AASHTO M247, EN1423/EN1424-1998, KS L2521 etc.
Using quantity and method of drop on beads can be varied by requirements of reflectivity of different countries.