Product Description
During production of paints, qualified glass beads will be mixed into them as certain proportion required by standards.Certain proportion glass beads will be dropped on during application of paint on road, which has been mixed with glass beads, before they are dry. Under the effect of gravity of glass beads itself, the glass beads will inlaid into paint by part of their surface. When the car light attaches such kind of road marking lines, the light will be reflected back to the eyes of driver to increase driving safety at night.
The glass bead can be separated as intermix beads and drop on beads according to the usage of them, and also can be devided as moisture-proof beads, adhesive coating beads and dual-coated beads.
GLASS BEADS HAVE 3 TYPES:
1. DROP ON FOR THERMOPLASTIC PAINT
2. PRE MIXED FOR THERMOPLASTIC PAINT
3. DROP ON FOR COLD SPRAYING ROAD MARKING PAINT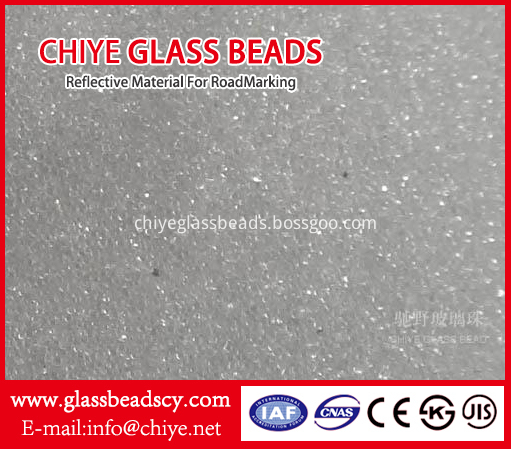 Function of Glass Beads for Road Marking Paint
Improve the road marking line contrary reflection function. When driving at night, the lamp shines on the marking line with glass bead in it, the ray of lamp is reflected back parallely. So the driver can look at the road clearly and drive safely at night.
Specifications of Glass Beads for Road Marking Paint
Type Glass bead granul diametre limit(μm) Glass bead quality percentage(%)
BS6088A >1180 0~3
1180~850 5~20
850~425 65~95
<425 0~10
BS6088B >850 0~5
850~600 5~20
600~300 30~75
300~180 10~30
<180 0~15
The main products:
1. BS6088A and BS6088B size distribution according to British Standard BS6088.
Table 1 Glass bead Size Distribution (BS6088A/B International Standard)
2.Products according to international standard include:BS6088,KS and AASHTO,EN1423 etc.
3.You can choose different size glass bead between 50μm-1180μm according to different funcition.