Product Description
Thermoplastic marking paint is mainly composed by synthetic resin, glass beads, pigments, packing materials, additives, etc.
Synthetic resin has thermoplasticity, make the hot melt coating fast dry and strong adhesive to the road surface.
Additives in the paint can increase the plastic of the coating, and make it resistant to subsidence, pollution and color fading.
Pigments: the common colors of road lines are yellow and white. White pigments are mainly titanium dioxide, zinc oxide, and lithopone, while yellow pigment is mainly het-resistant yellow lead.
Packing materials, as filling added into the paint, ensure mechanical strength, wear resistance, and color of paint coating. The particle size will affect liquidity and precipitation, as well as the surface processing.
Glass beads are added in order to improve the identification of lines at night, to improve the brightness and durability of the marking. Glass bead is colorless and transparent ball, has function of light refraction, focusing and directional reflection. Glass bead mixed in the coating or dispensed throughout the coating surface can reflect car light back to the driver's eyes, thus greatly improving the marking visibility.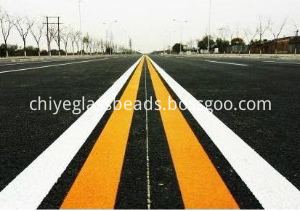 Moisture-Proof Glass Beads
Coat regular glass bead with a special type of coating during production to increase the hydrophobicity of glass bead.
The Moisture will not adhere on the surface of this type of glass bead easily under conditions of rainy and/or foggy days,so that the negative effect to reflectivity by bad weather will be decreased.

These beads are coated with a special coating during the manufacture of the glass beads. In the rainy and foggy weather, the moisture can not easily adhere on the surface of glass beads, so the effection on reflectivity caused by bad weather will be reduced. The granulometry of this type glass beads is the same as non-coated glass beads.
The glass bead can be produced based on the standard of countries or areas, such as EN1423/1424, AASHTO M247, BS6088, JIS R3301 and KS L2521 etc.