Product Description
Micro Reflective Glass Beads For Road Marking Paint
Banking on our vast industry experience, we offer the most preferred range of Glass Beads for Road Marking. These Glass Beads are designed and engineered in accordance with the international quality standards. We offer different versions and standards glass beads according to the industry and government norms. Thus, these Glass Beads are greatly popular in the international markets.
During production of paints, qualified glass beads will be mixed into them as certain proportion required by standards.Certain proportion glass beads will be dropped on during application of paint on road, which has been mixed with glass beads, before they are dry. Under the effect of gravity of glass beads itself, the glass beads will inlaid into paint by part of their surface. When the car light attaches such kind of road marking lines, the light will be reflected back to the eyes of driver to increase driving safety at night.
The glass bead can be separated as intermix beads and drop on beads according to the usage of them, and also can be devided as moisture-proof beads, adhesive coating beads and dual-coated beads.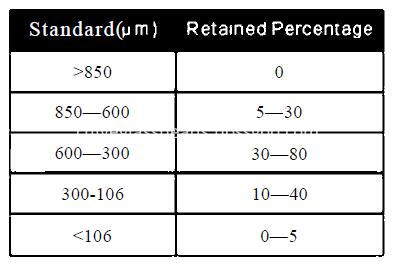 During the application of paint on road work, thermoplastic paint should be heated to a certain level and used on the road surface as marking line, drop on glass bead should be dropped on the surface of line while it is still wet to increase the reflectivity of road marking line.
According to the specification of Communication Industry Standard of the People's Republic of China No. GB/T24722-2009-, the granulometry of drop on glass bead is shown as table below, other parameters are the same with intermix glass bead.
We can produce glass beads based on standards of different countries and areas, Such as BS6088, AASHTO M247, EN1423/EN1424-1998, KS L2521 etc.
Using quantity and method of drop on beads can be varied by requirements of reflectivity of different countries.