Product Description
Micro Reflective Glass Beads for Highway Traffic Safety

During production of paints, qualified glass beads will be mixed into them as certain proportion required by standards.Certain proportion glass beads will be dropped on during application of paint on road, which has been mixed with glass beads, before they are dry. Under the effect of gravity of glass beads itself, the glass beads will inlaid into paint by part of their surface. When the car light attaches such kind of road marking lines, the light will be reflected back to the eyes of driver to increase driving safety at night.
Glass Beads Measuring Reflectivity
Glass beads perform an important function of traffic safety because of their retroreflective properties, which permit the motorist to clearly see the pavement markings at night as well as in daytime. The optical property of glass bead spheres by which they direct light back to the driver (auto headlight) is known as retroreflection. The intensity of the retroreflected light returned to the source of illumination is one measure of the quality of the road marking. Reflectivity can be checked by using an instrument called a Reflectomer. This is usually a portable device that is engineered to measure the intensity of retro-reflected light at a given geometry (30-meter geometry is the standard) and distance typical of a car headlight. Reflectivity is reported in millicandelas per square meter per lux (mcd/m2/lux).
The glass bead can be separated as intermix beads and drop on beads according to the usage of them, and also can be devided as moisture-proof beads, adhesive coating beads and dual-coated beads.
Micro Glass Beads for Highway Markings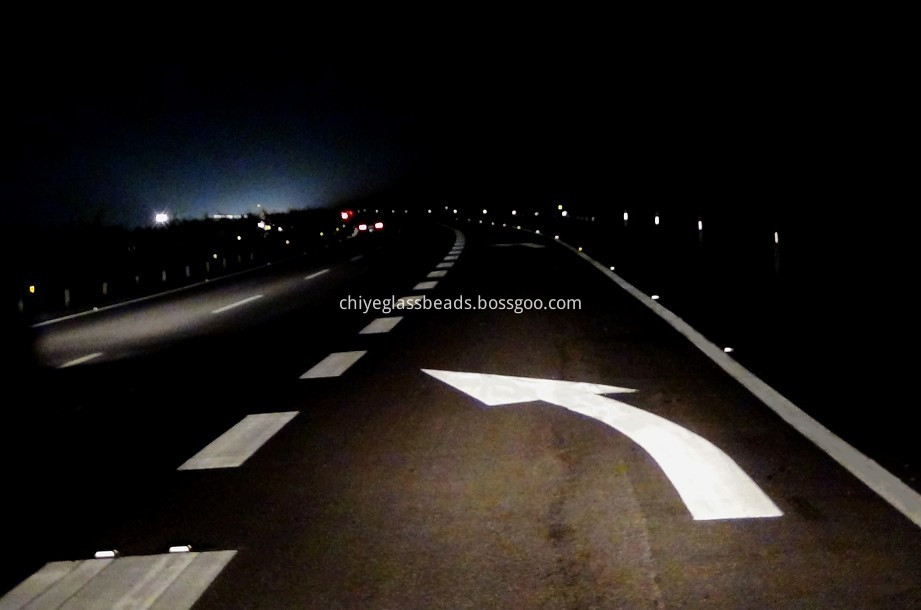 High Reflective Glass Beads