Product Description
Good Chemical Stability Glass Beads for Grinding
These glass beads are generally used as disperser, grinding media and filler materials in dry, paint, coating and others.
The glass bead can be produced based on the standard of countries or areas, such as EN1423/1424, AASHTO M247, BS6088, JIS R3301 and KS L2521 etc.
Application of Chemical Stability Glass Beads for Grinding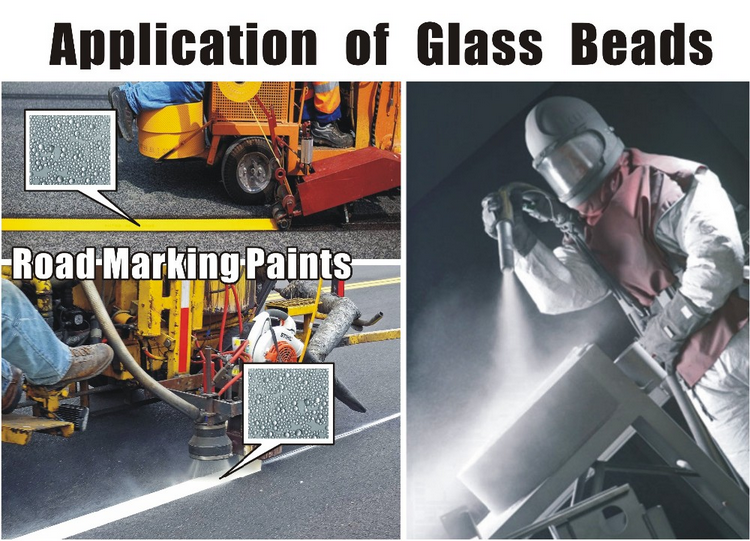 Glass beads, also know as glass spheres, microspheres, or microparticles, have been used for 80 years in signage legend and markings. Much smaller beads were spread onto the surface of painted signs to produce a degree of retroreflectivity before the first manufactured glass bead sheeting for signs was produced in the 1950s. Small glass beads also provide retroreflection for pavement markings including both paint and in manufactured markings where they become exposed and functional as the material wears away through usage on the roadway. Glass beads greater than 100 microns in diameter have long been used to enhance visibility in road lining paints.
1. Road mark refractive index glass microsphere
When driving at night, the headlights light on the graticule of glass microsphere. The glass microsphere can make the light of car-light to reflect parallel, and make the driver distinguish the direction in order to improve driving safety. For glass microsphere of various gradations, when the top big sphere is worn, the appeared bottom small sphere can be used continuously.
2. Metal cleaning and Polishing
The glass microsphere made from sodium lime glass has good chemical stability, certain mechanical strength and hardness. Therefore, it is more superior to be used as abrasive material than to be used as other abrasive material.
3. Military pneumatic shot blast
It is used for cleaning the turbine, blade and axle of the airplane engine.
4. It is used for deluxe photetch decoration, filler and reinforcement.
It is used in chemical industry. It is used as filler and reinforcement of glass microsphere in production.
Generally speaking, glass microsphere is widely used, with strong usability. New technological field will be developed constantly.