Product Description
This Standard specifies material and design requirements for glass beads with retroreflective properties, which are intended for incorporation into pavement-marking materials. It applies to glass beads intended to improve the visibility of pavement-marking

materials by reflecting the light from vehicle headlamps back to the driver under night-time conditions.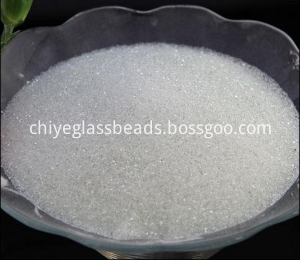 Specification for solid glass beads for use with road marking compounds and for other industrial uses
Glass beads for pavement marking paint
Materials for pavement marking
Heavy metal concentration of glass beads
Glass beads for use in road-marking materials
Glass beads (for application to road marking materials)
Glass Beads Usage
1. Glass beads are widely used as a new type of material in various fields of medical devices and nylon, rubber, plastics, aerospace, etc. such as, filling additives, enhancers, etc.
2. Glass Beads for Road Marking can improve visibility of the traffic markings and road signs and supply safer night driving conditions.
3. Glass bead as peening and additives material for industrial action can be used in the mold surface and the metal surface, the surface is neither damaged, and improve accuracy of the work piece. Such as:hardware for metal, plastic, jewelry, and other objects of precision casting cleaning and polishing, commonly used at home and abroad.
4. Glass beads for crafts, glass sand and colored glass beads are the ideal materials for garment printing, garment heat transfer, Christmas trees decoration, artificial fruit, artificial flowers, handicrafts surface decoration, manufacturing hourglass.
5. High refractive index glass beads are necessary materials for reflective fabric, reflective coatings, chemical coatings, advertising materials, clothing materials, reflective film, reflective fabric, reflective signs marking, airport runways, hats, bags, land and air rescue supplies, personnel wearing at night-time activities.
6. Glass sand appears to be small irregular granular, used for glass surface decoration, such as glasses, vase, lampshade, the glass sand baked with the 520-580 degrees is welded with the glass work piece together, forming a convex solid surface.